Learn to Heal
---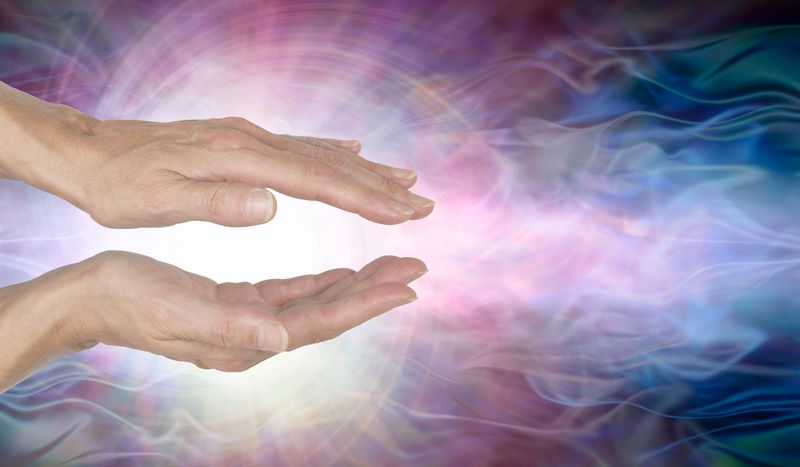 Imagine placing hands upon yourself or a loved one to bring miraculous healing to body, mind, emotion and spirit.

Humans have been doing this for centuries. Cultures around the world contain many references to hands-on healing.
 
In the last two hundred years in the west, many people forgot this ability. It is thought to be an unusual or fantastic thing. Yet hands-on healing is natural and innate in all of us. It is a gift that resides in each person, just waiting to be opened.
The Secret Art of Inviting Happiness

The Miraculous Medicine for All Disease
Reiki is one of the most advanced methods for hands-on healing. Its efficacy has been well documented through decades of research including peer review studies. Much of the data comes from hospitals. For over twenty years, 800+ hospitals in the US alone have offered Reiki as a standard part of patient care. Statistically they find Reiki helps to bring quicker recovery rates.
 

Anyone can learn the ancient art of healing with Reiki.

It does not require any previous experience. Of the many hundreds of people who have attended my Reiki classes, everyone has been able to do it. To embark upon this path, all that is needed is willingness.
 
Have you felt an inner guidance to learn this healing art? Then the heart is calling. It does not require getting all your ducks in a row first. In fact, Reiki will help you get your ducks in a row. It will help you navigate this time of great change on our planet. It can be used to heal anything, even relationships, situations and blocks.
 


Reiki is simple and easy to learn.

During the training, students receive an energy attunement. This is a beautiful meditative experience that connects you to Source and gives you the ability to channel this healing energy through you at will. Once you are attuned, simply by intending the energy flows out of your hands to bring healing.
 
The attunement is a profound and uplifting experience. It gives you the gift of healing for the rest of your life. It will always be there for you, even if time passes in which you do not use it. In the Holy Fire® Reiki method, attunements are also referred to as Placements and Ignitions at the various levels of training.
 
Once attuned, when giving Reiki energy to oneself or others students often feel sensations in their hands. Such as warmth, tingling, coolness, circular movement or pulsation. This can be accompanied by a deep sense of wellbeing and peace. Reiki also opens a student's intuitive abilities and brings healing to the giver as well as the receiver.
 
Students receive confirmation of their abilities when recipients experience release of pain and tension, remission of symptoms, pleasant sensations, deep relaxation and inner peace.
 
Over the centuries, humans have also known that everything is energy, and referred to it as chi, ki, prana, orgone and ether, among other terms. Many ancient martial, meditative and medical arts were based on working with energy for health and wellbeing. Methods for this include Reiki, Tai Chi, Acupuncture and Ayurveda, which continue to flourish today. In recent decades, science has also learned and demonstrated in laboratory settings that everything is energy.
 
Energy is not bound by time and space. Because of this, Reiki has always been sent remotely in addition to in-person. Both methods are equally effective.
 
In my Reiki classes, I teach students how to provide Reiki both in-person and remotely. Distance healing helps the giver and recipient to tune in to energy, rather than being focused on just the physical. This heightens their awareness and extrasensory abilities, revealing underlying causes of ailment.
 


The Online Reiki Classes via Zoom are live, interactive, magical and fun.

Unlike online classes focused on the intellect, a very different energetic dynamic takes place.

Students feel the energy.

They often have beautiful mystical experiences along with profound healing and transformation. Those who had attended my in-person Reiki classes previously say the online classes provide the same experience and are thrilled.
 
During the Online Reiki Classes students get to practice, confirming their abilities. In online breakout rooms, each student works with one or two other students to practice and test their skills, sending Reiki to each other across the miles. The recipient student can often identify which parts of his or her body the giving student sent Reiki to, without being told. This is very exciting and empowering. Every student has received this confirmation.
 


Students learn how to accurately scan each other remotely, verifying what they sensed in the scan.

Information from the scan provides guidance in how to proceed in the session. They also learn how to scan others in person.
 
The method and lineage of Reiki that I teach is Usui/Holy Fire® Reiki through the ICRT (International Center for Reiki Training), the largest Reiki association in the world. In this lineage, the Reiki energy continues to get stronger. We use the original methods of Reiki created by the founder Mikao Usui, known as the Japanese Reiki Techniques. This is combined with the latest powerful evolution of Reiki, as it grows in strength and effectiveness.
 
As a Reiki Master Teacher and Professional Member of the ICRT, I receive periodic energy upgrades expanding my teaching and healing abilities. Students receive these upgraded energies and abilities in my classes. One of these upgrades gave me the ability to effectively facilitate online attunements.
 
Another master upgrade is the recent emergence of the

World Peace Reiki

frequency. It helps students maintain peace and balance within themselves regardless of circumstances. This peace then flows through them to others and to the world.
 


The Reiki Classes are offered in levels: Reiki 1 & 2, Reiki 3 Master, and Reiki 4 Karuna Master.

These trainings are perfect for those who want to use Reiki just for themselves and loved ones, and also for those who would like to create a professional Reiki practice.
 


Reiki 1 & Reiki 2

are each a one-day class. They are two parts of one course taught weeks apart to allow integration time. At level 2 students receive three Reiki symbols: the Power symbol, the Mental Emotional Healing symbol, and the Distance Healing symbol. Reiki symbols activate aspects of the healing energy for those who are attuned. This class includes how to energetically clear objects and spaces, and to send Reiki across any distance in space and time.
Reiki 3 Master

is a 2-day class providing students with master level healing abilities and two master symbols. Included are how to use Reiki with crystals, sending healing continuously though a Reiki Crystal Grid. Students also gain the ability to release blocks for self and others. This class provides students with the ability to teach Reiki both remotely and in person at all class levels if they choose to do so.
 


Reiki 4 Karuna Master

is a 2-day advanced master class, the next step for Reiki masters. Students are attuned to eight additional symbols, providing a powerful toolkit for healing a wide range of conditions. They gain the ability to teach all levels both remotely and in person. In both Reiki 3 and Reiki 4 there are four ignition attunements.
 


Reiki helps us to live an empowered, meaningful and blessed life.

It is a two-fold path, for both healing and enlightenment. Millions of people around the world on every continent practice Reiki for health and inner peace. You are welcome to join this global community by learning Reiki, bringing peace and wellbeing to yourself and thus to our beautiful planet!
 
For more information including class dates and registration, you are invited to visit the Online Reiki Classes page:
 
 
Infinite love, peace & blessings,
Beth
Beth Wishbow, RMT
Reiki Master Teacher & Therapist
August 3, 2022



A Sacred Space for Healing, Friendship and Connection


"Beth Wishbow is the most incredible healer and teacher I've ever encountered. Her calm and centered presence fills the space, whether digital/distance or in person. I have experienced many healing sessions with Beth, as well as taking all levels of Reiki training with her. She is extremely knowledgeable about the history of Reiki, the healing process, the anatomy to be healed, as well as how to put this healing practice to use for those that wish to teach or heal professionally. Her classes are a sacred space for healing, friendship, and connection, with bonds that last for life. I've never met someone that embodies the spirit of Reiki the way Beth does, and brings Eastern and Western concepts together in such a beautiful and cohesive way to bring understanding to all. Whether you're new to the spiritual path or well-versed, Beth will be able to answer your questions and speak to you from exactly where you are on your path. My appreciation and gratitude for Beth could never be fully expressed in words 💗."  

- Larissa Sutphen
Exceeded Expectations


"Beth is always effective and compassionate in her teaching. The Karuna class (and all other classes) exceeded my expectations and has reinvigorated me with passion, love, compassion and excitement towards reiki and myself. She answered our questions and made sure that we felt confident in the practice. She gave us opportunities to practice, share and navigate this part of our journey with compassion, support and love. I always leave classes with Beth with a higher sense of gratitude, clarity, love and reverence for reiki."  

- Reid Maglione
Online Students Send Reiki Across The Miles


"My experience in the Holy Fire III Reiki Online Master class was enlightening. Beth is extremely insightful, knowledgeable and thorough with the material. She went above and beyond teaching just Reiki, she included all aspects of how to develop a practice, and how to become a great teacher. The ignitions and experiences I had were very powerful. I am clairsentient and an empath and after receiving the master symbols I felt both sensitivities increase. During the break out practice sessions, with my eyes closed I was able to specifically pin point and feel where on my body the other Reiki master student was sending Reiki to from across the miles, as she directed it to parts of my body. Beth's classes produce powerful Reiki healers. I've never experienced that with any other Reiki class or healing session. I will be returning to repeat and experience Holy Fire Reiki 1 and 2 with Beth so I can continue to learn and grow as a healer. All experiences and learnings are helpful. I am grateful for the wisdom and healing I have received and look forward to learning more in the future."   

- Erica Schneider
Holy Fire® is a registered service mark of William Lee Rand.